Only Fools and 3 Courses 
Our next dinner is on Friday 11th October 2019 at the Portland College, Nottingham Road, Mansfield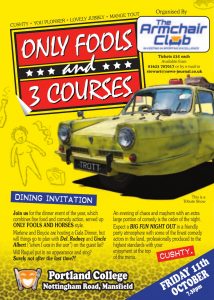 Read more about our speakers by clicking here
We continue to work with SportsAid to identify and support genuine local talent. Some of the area's leading sports personalities have enjoyed a helping hand from the money that has been raised, amongst them Rebecca Adlington, Sam and Oliver Hynd and golfer Oliver Wilson. You can view the list of donations that have been made at this link
Our Speakers will entertain us for around an hour following an excellent traditional dinner. It promises to be another great Armchair night. Ticket prices are £35 per person and we can arrange individual tickets or multiples, and of course tables of 8, 10, and 12 for groups or companies. Invoices can be arranged.
You and your guests are asked to arrive Portland College, Nottingham Road, Mansfield NG18 4TJ any time after 6.45pm in readiness for the meal being served at 7.30pm. Dress as usual will be lounge suits or blazer and tie.
Confirming your bookings couldn't be easier.
Simply telephone Bev at Stewart Rickersey's office on Mansfield 707017
Remember that Ladies are now very welcome at all Armchair Club events.