Allo Allo Comedy Dining
Our next dinner is on Friday 7th October 2022 at the Portland College, Nottingham Road, Mansfield
Read more about our speakers by clicking here
and now for something completely different………….
Allo Allo Comedy Dining Invitation
Read this very carefully, I shall send this only once…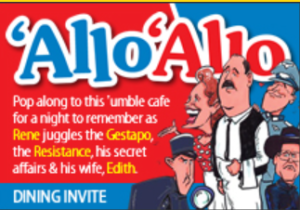 'Allo 'Allo Dining Invitation is an interactive comedy dinner show where the audience dine in Rene and Edith's 'umble cafe. It begins in the bar over pre-dinner drinks, where the audience are greeted by the characters. Then, when the time comes, the audience are invited through into the restaurant where they are served a three course meal.
The show is half-scripted and half-improvised by the actors, taking place around the audience whilst they eat. It references all the most famous bits from the original show whilst having a narrative all of its own.
Poor old Rene, as if things weren't bad enough. The Germans already have him hiding the painting of the fallen Madonna. Michelle of the Resistance still needs his help to get the British airman back to England. And, worst of all, Edith, his wife, still thinks she can sing!
So, when Herr Flick of the Gestapo turns up demanding the whereabouts of the painting it's testing times for Rene. Even his secret affair with the waitress, Yvette, struggles to raise his spirits! Classic comedy chaos ensues as Rene attempts to keep everyone happy and himself alive.
Oh, and keeping a watchful eye over events is a British agent disguised as a policeman who hasn't quite grasped the French language. Expect a big fun night out in a friendly party atmosphere with some of the finest comedy actors in the land, professionally produced to the highest standards with your enjoyment at the top of the menu.
Guests will be able to enjoy a drinks reception from 6.45pm followed by dinner at 7.30pm. Between each course during dinner our professional cast of actors will entertain us with comedy sketches based upon the ever-popular 80's TV show Allo Allo.
Dress code is smart casual, suits or jacket & tie for the gentleman and it's short or even long & elegant for the ladies.
This really is a 'not to be missed evening' and is perfect for entertaining friends, family, clients & business associates, with tables of 10 at £400, or individually at £40 per person. To reserve your tickets or table simply telephone Bev at Stewart Rickersey's office on Mansfield 707017 or e-mail to stewart@rickersey.net. 
We look forward to sharing an amazing evening with you whilst continuing our efforts to raise money to support local sports people. But an Armchair Club night with a difference. Don't miss it.
Sportingly yours,
Geoff Waller, Chris Adkin, Stewart Rickersey, Martyn Knox, Andrew Saunders, John Morley, Zac Coupe, Nikki Biggs and Nigel Franks
Armchair Club Members.
Confirming your bookings couldn't be easier.
Simply telephone Bev at Stewart Rickersey's office on Mansfield 707017
Remember that Ladies are now very welcome at all Armchair Club events.