A Question of Sport
Monday, 1st March 2021 – 1861 Suite at Mansfield Town Football Club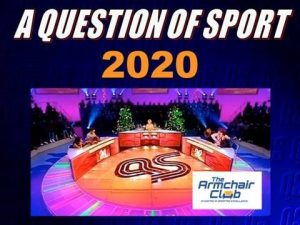 Many of you looking at this page will be very familiar with the BBC's A Question of Sport programme. What you may not know is that here in Mansfield every March the Armchair Club host a successful and very professional QoS style evening.It's a great night of sporting fun. We have mutli-screen projection equipment, full audio visual support with scores being displayed on screen after each round.We are continuing with the same format of recent years ie with no comedian. This allows the QoS part of the evening to be extended to around 90 minutes instead of the very fast paced approach of a few years ago. This format allows more time for answers and banter around the table.It promises to be another great night.

Tickets for the QoS evening will be £35 pp, with tables of 8, 10 and 12, as well as individual or indeed smaller multiplies being accommodated.

You and your guests are asked to arrive at the 1861 Suite at Mansfield Town Football Club anytime after 7.00pm in readiness for the meal being served at 7.30pm. Dress as usual will be lounge suits or blazer and tie.

Book Now The QoS Dinner, always held on the first Monday in March each year, is always popular and so early booking is encouraged.Confirming your booking couldn't be easier.

Simply telephone Bev at Stewart Rickersey's office on Mansfield 707017 or reply by e-mail to stewart@rickersey.net Cheques should follow asap and certainly before the end of February. No tickets will be issued.
Previous Winners
1999 – Judson Signs
2000 – Judson Signs
2001 – SPG
2002 – David Blount Estate Agents
2003 – David Blount Estate Agents
2004 – The Chad
2005 – Alfreton Insurance Services
2006 – Alfreton Insurance Services
2007 – The Chad
2008 – East Midlands Plastering
2009 – The Chad
2010 – Nat West Bank
2011 – Andrew Saunders Insurance Services
2012 – Stopford Associates
2013 – Andrew Saunders Insurance Services
2014 – Andrew Saunders Insurance Services
2015 – Hall-Fast Industrial Supplies
2016 – Alfreton Insurance
2017 – Alfreton Insurance
2018 – Collins Wealth Management
2019 – John Sankey Estate Agents
2020 – Edwinstowe Plumbing & Heating