Speakers
Mark Foster was our celebrity sporting speaker at our dinner on Thursday 5th October 2017.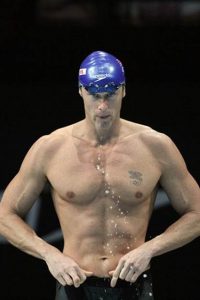 Mark burst onto the International swimming scene, at the age of 16, representing England at the 1986 Commonwealth Games, he went on to represent his country for 23 years and became Britain's most decorated male swimmer. Throughout his remarkable career, he has won 51 major international medals; competed in 5 Olympics, been 6 times World Champion, 11 times European champion, 2 times Commonwealth champion and broke the World record 8 times. He was also chosen as the flag bearer to lead out Team GB at the opening ceremony of the 2008 Beijing Olympics.
Since retiring from swimming, Mark has become a familiar face on television and his award winning partnership with Clare Balding from the aquatics centre during the Olympics in 2012, made him a household name. In addition, Mark mentored the swimmer James O'Shea to help him compete in the 2012 Para-Olympics.
Since 2012 Mark has graced the TV screens by regular commentating slots at the commonwealth and world championships in 2013/2014/ 2015. More recently, Mark formed yet another popular media partnership commentating from the pool at the Rio Olympics with Rebecca Adlington and Helen Skelton. This high-energy partnership became one of the most popular commenting teams during the Rio Fortnight.
Mark's likable and easy manner on screen has made him a popular media personality making him a regular participant on a host of TV shows such as Countdown, Question of Sport, Come Dine With Me, Who's Doing the Dishes, Celebrity Masterchef, The Chase as well as a host of other charity shows and campaigns such as Sports Relief and Dancing on wheels.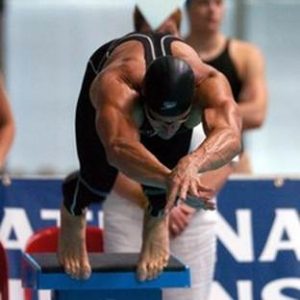 Following his retirement from competitive swimming, Mark entered 'Strictly Come Dancing' series six with dancer Hayley Holt. Mark's appearance on Strictly transformed his image in the public eye from dedicated athlete to someone with a big personality and great sense of humour. This other side of Mark's personality unexpectedly launched a successful media career making him a popular contestant and a household pin up. In 2012 Mark subsequently took part in the live Strictly tour, partnering Natalie Lowe and with customary dedication and determination and ever the competitor, ended up scoring 9 and 10s rather than his previous 5 and 6s.
Ron Woodward was our comedian sporting speaker at our dinner on Thursday 5th October 2017.
Award-winning comedian Rod Woodward is the son of eminent Welsh sports writer, Karl Woodward, who recently retired as the longest serving member of the National newspaper of Wales, The Western Mail. He had planned to follow his Dad and take up a career in the media but, when offered a job as a studio audience warm up man at HTV Wales, took a year out from university to pursue his childhood ambition of becoming a professional comedian. The rest is Geography! The 32-year old from Machen, South Wales, has been in big demand on the corporate circuit for many years and recent successes have gained him much wider public awareness.
Having supported Patrick McGuinness on his 110-night nationwide tour and appeared with Russell Brand at St. David's Hall, Cardiff last summer, he won the BBC comedy competition Funny Business in February 2008.
The Cardiff-born stand-up comic then performed as his alter ego Mario De Niro at Planet Hollywood in Las Vegas before Joe Calzaghe's super fight with Bernard Hopkins. His song 'Delilah – the Calzaghe remix' proved a big hit with Joe's travelling army of fans. And to celebrate Cardiff City reaching the FA Cup final, Rod wrote and performed a comedy song 'Do The Ayatollah,' backed by more than 100 Bluebirds fans.
Set to the tune of the Macarena and recorded at Shabbey Road Studios, Caerphilly, it was a run-away success with more than 200,000 hits on You Tube and other internet sites. It was featured on network radio and television shows, including Soccer AM and GMTV. The CD, released
by Grown Up records, has also proved hugely popular. Rod's hobbies include swimming, playing the piano and, until an injury, playing football: he broke his leg and lost his anterior cruciate ligament during a five-a-side tournament.
Since the premature (though some would say not a moment too soon) end of his soccer career he has had to settle for the gentler sport of golf and is a member of Llanishen and Ridgeway Golf Clubs as well as the Variety Club Golf Society.
He is still a keen sports enthusiast and has supported Everton since his father covered the 1984 FA Cup Final and brought him back a Watford hat (which he bought prior the game) before Everton went on to win.
By default Rod instantly became a blue nose. Fickle! Rod enjoy listening to jazz and popular music. His favourite singer is Frank Sinatra, who he believes is the greatest entertainer of all time. Rod performed vocals in an Old Blue Eyes tribute concert to raise money for Welsh charity Bobath Cymru and recently repeated the performance some two years later – clearly they were in no rush to hear his dulcet tones again. He attributes his musical taste to his grandfather who was an aficionado of the Great American Songbook, and is delighted to see the huge renaissance of this genre thanks to the likes of Michael Buble, Jamie Cullum, Rod Stewart, Westlife and Robbie Williams.
His comic heroes include Robin Williams, George Carlin, Jerry Seinfeld, Bob Monkhouse, Dave Allen, Billy Connolly, and Richard Pryor.
Rod is also a member of a pub quiz team and is an expert on Greek mythology as long as the answer is Percius.
His ambition is to play piano like George Shearing.
Bill Beaumont, CBE, DL was our speaker on Thursday 24th November 2016.
Born on 9th March 1952 in Preston, Lancashire, Bill Beaumont is a former England and Fylde lock who won 34 caps for his country and Captained the team on 21 occasions. He led England to their first Grand Slam for thirty three years, in 1980 and played seven times for the British & Irish Lions. Bill won three County Championships with Lancashire before retiring from playing in 1982.
The County Championship was named in Bill's honour in 2007 and is now known as the Bill Beaumont Cup. Bill is a Life Vice President of his former club Fylde and is heavily involved in charity work as Vice President of the Lancashire Association of Youth Clubs, SPARKS and the Lord Taverners. He is also Honorary President of the rugby charity 'Wooden Spoon.'
Through his IRB work, Bill travels the world promoting the game of rugby union and the IRB global charity, the United Nations World Food programme. Bill was voted into the IRB International Rugby Hall of Fame in 2003.
Bill has continued to run the family textile business in addition to fulfilling a successful broadcasting career with the BBC, notably through his appearances on 'A Question of Sport'.
Bill Beaumont has dedicated a significant amount of his time however to the sport of rugby union through a number of important administrative roles, all of which have been unpaid.
Roles on the RFU Council (representing Lancashire), representing the RFU on the IRB Council, Chairman of the Six Nations,Director of Rugby World Cup and in 2005 he acted as Tour Manager for the British & Irish Lions tour to New Zealand.
Bill Beaumont is the second recipient of the CBE for services to rugby union in England. Martin Johnson was awarded the CBE in 2004. He is also a Deputy Lieutenant of Lancashire.
Kevin Connelly was our second speaker at our Sporting dinner on Thursday 24th November 2016.
Kevin is in great demand for corporate events and sportsmen's dinners and has worked for a host of clients in the UK and Europe. Kevin's is one of the stars of BBC2's highly acclaimed Dead Ringers series and his extensive repertoire includes sportsmen, politicians and television personalities and characters.
Born in Middlesbrough, Kevin found fame while still at school, mimicking his fellow students and, of course, his teachers.  As his 'turns' became more popular, he gained confidence and included a few leading personalities into his repertoire.  While working as restaurant manager in his brother-in-law's hotel near Thirsk, he would entertain his customers at the end of the evening to a small cameo piece, quite unrehearsed, but which certainly delighted the clientele.  It was through this venue that someone asked him to speak at the Yorkshire CCC dinner.  Engagements rolled in from there and eventually he decided to give up his position in restaurant management to become a professional impressionist.
Kevin's many television credits include BBC's Dead Ringers, Today with Des and Mel, BBC Sports Review of The Year, Des O'Connor's World Cup Party, The Full Motty, We're On Our Way To Wembley, The Sports Show, It's Just Not Cricket With Rory Bremner, Saint & Greavsie, The Pavilion End, The Impressionable Jon Culshaw and Double Take.  He was also given his own show on Tyne Tees TV.  Kevin's radio credits include Talk Radio's World Cup team, BBC Radio 4's Dead Ringers and The Steve Penk Breakfast Show on Virgin Radio.
Craig Heap was our speaker at our Sportsman's Dinner on Monday 12th October 2015.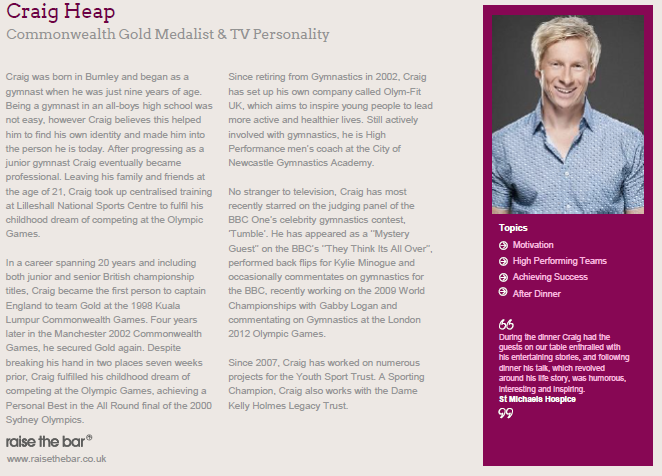 John Cooper was our comedian at our Sportsman's Dinner on Monday 12th October 2015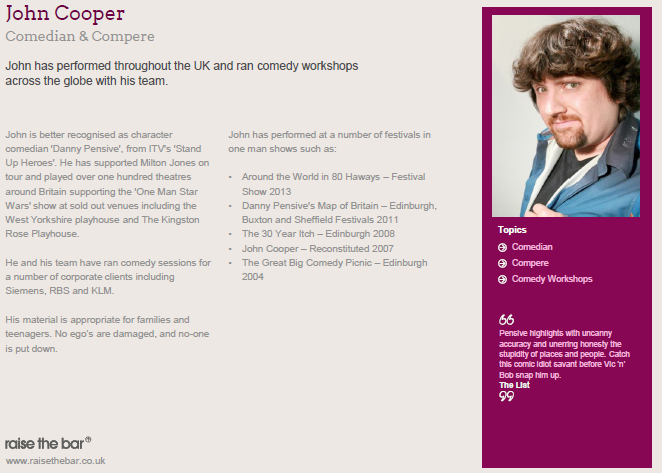 John Hartson, Speaker – appeared at our Sportsman's Dinner Monday 6th October 2014
Our sporting guest is John Hartson (born 5 April 1975) a Welsh former professional footballer who played as a striker from 1992 until 2008 notably in the Scottish Premier League for Celtic and the Premier League for Arsenal and West Ham United. He was then the Wales national team forwards coach, until 6 November 2013.
He also played in England's top flight for Wimbledon, Coventry City and West Bromwich Albion and in the Football League for Luton Town and Norwich City. Hartson also featured prominently for Wales, earning 51 caps and scoring 14 goals.
Hartson won 51 first team caps for Wales, scoring 14 goals. He also holds a record for the Wales U21 team by being one of only four people to have scored a hat-trick at that level alongside Craig Davies, Lee Jones and Ched Evans. Hartson retired from international football in February 2006 in order to concentrate on his career with Celtic but in August that year he stated that he would come out of retirement to play if John Toshack needed him.
Hartson joined Setanta Sports as a pundit for the 2008–09 season, as part of the broadcaster's coverage of the Scottish Premier League. A Welsh speaker, Hartson appears regularly as a studio guest on S4C's Sgorio. He is also a regular pundit on ITV's coverage of the FA Cup, and often appears on BBC Radio 5 Live's coverage of both Premier League and Champions League games as a match summariser.
In July 2009 Hartson received chemotherapy after being diagnosed with testicular cancer which had spread to his brain. It was later reported the cancer had spread to his lungs and that he remained in a "critical condition" following emergency surgery. The treatment was successful and by December of that year it was reported that the cancer had been virtually eradicated from Hartson's body although he would have more surgery and treatment to come. Hartson is a lifelong Swansea City supporter.
Rod Woodward, Comedian, appeared at our Sportsman's Dinner Monday 6th October 2014

Overall winner of the BBC TV series Funny Business. Performed on a national tour with Paddy 'the bouncer' McGuinness from Peter Kay's Phoenix Nights and Max & Paddy's Road To Nowhere. "He was actually in danger of overshadowing the Phoenix Nights star with his disarming natural banter and just plain laugh-out-loud funniness" – Edinburgh Evening News
Wrote and performed the Cardiff City Fans anthem, 'Do The Ayatollah', which had over 200,000 hits on YouTube.
"Fantastic!" – Soccer AM
Supported Russell Brand at St Davids Hall, Cardiff.
Performed at the Planet Hollywood Hotel on the Las Vegas Strip after the weigh-in for the Bernard Hopkins v Joe Calzaghe fight.
Appeared as the subject of the BBC documentary, "Am I Talking To You", which followed Rod on his journey to the Edinburgh Festival Fringe. Wrote and performed his own one man show for a 25-night run at The Pleasance during the 2001 Edinburgh Festival Fringe. Guest speaker at the Professional Footballers' Association Footballer of the Year Awards dinner at the Grosvenor House Hotel, London.
Quotes
"Rod Woodward is a young Dave Allen"
Peter Kay
"A dazzling new comic…" "Award winning young comedian Rod Woodward did not put a foot wrong. His carefully delivered material was highlighted by perfect timing…" "His gags are as fresh as the morning papers…"
The Stage Newspaper
"A brilliant young comic with great style and repose"
Barry Cryer
"'Who's the best speaker you have ever heard?' is arguably the question I am asked most often… Many names leap to mind. Rod Woodward is one of them."
Bryn Williams, Toastmaster to the Queen
Graham Poll, One of Britain's Best Known Referee's-Appeared at our Sportsman's Dinner September 2013
Graham Poll is said to be the most well known and most experienced English football referee of all time. Whilst his achievements are considerable, including the last FA Cup Final at Wembley Stadium in 2000 and the first referee to reach the milestone of refereeing 300 Premier Leagues matches he will always be remembered for issuing one player with 3 yellow cards at a World Cup match during the 2006 final competition in Germany 2006.
Educated at Alleyne's School in Stevenage Poll was motivated to achieve at the earliest possible age so left education to follow a highly successful sales career in FMCG marketplace after learning the principles of selling in the business to business world of office equipment with Canon UK Ltd.
An excellent communicator and presenter he quickly progressed to first and then second line management and for 7 years oversaw a rapidly expanding direct sales force at Coty UK alongside his refereeing career. Forced to leave full time employment in 1999 due to his dedication to achieving world recognition in football, Poll started own business with another ex-sales director from Hays and Fellow International referee Graham Barber. Together they developed an internet site which they negotiated the sale of for £1.5 million in 2001 before becoming a full time professional referee.
Graham combines his sporting experiences to those of his sales world producing a humorous and insightful view of the importance of MOTIVATION, TEAMWORK and LEADERSHIP
Tony Jo,  After Dinner Speaker and Comedian appeared at our Sports'mans Dinner September 2013
Tony Jo is one of the most talented, versatile and funniest comedians in show business.  As a regular on the after dinner circuit Tony has appeared with many of the sporting legends including: Sir Bobby Charlton, Sir Geoff Hurst, Gordon Banks OBE,  Alan Ball MBE, Jack Charlton MBE, George Best, Ian Botham OBE to name but a few. In 1997, 1999 and 2001 Tony was awarded the After Dinner Speaker of the Year Award.
He has written material for many TV shows including: You've Been Framed, Stars in Your Eyes, Crosswits, Born Lucky. He has worked on the Production team of A Question of Sport for ten years. Television appearances have included: Jim Davidson's Generation Game, The Comedians (series 4) Live at Her Majesty's and three Royal Command Shows and numerous appearances on local networks.
Tony Jo is one of the most sought after and reliable entertainers on the circuit, and most importantly someone who is very funny, in fact "A Comedy Genius"
Paul Merson – Appeared at the Sportsman's Dinner October 2012
Paul Merson is a new kid on the block as far as after-dinner speaking is concerned. Whereas most soccer speakers on the circuit regale the audience with retrospective anecdotes, Paul is current. Younger members of the crowd can associate more easily with his laid back approach. Here is a man who has truly confronted his demons and is not afraid to discuss them openly. He is a joy to listen to and can captivate any audience with the story of his amazing journey.
Born in London, Paul Merson started his football career at Arsenal in 1984, joining the club as an apprentice. He made his 1st team debut for Arsenal on November 22, 1986 and by the 1988-89 season was a regular on the right wing making his debut for the England U21 side, and was voted PFA Young Player of the Year.
At the end of the 1996-97 Premiership campaign, Paul was sold to relegated Middlesbrough in a £5 million deal – making him the most expensive player ever signed by a non-Premiership club. Paul was a highly influential player for Middlesbrough, securing promotion success as Division One runners-up in 1997-98.
In the autumn of 1998, Paul was sold to Aston Villa for £6.75 million. He quickly established himself as a fans favourite due to his creative, flamboyant brand of football. He remained at Aston Villa for nearly five years, helping them reach the 2000 FA Cup final, before he was finally given a free transfer at the end of the 2001-02 season. Paul signed for Division One club Portsmouth, and was instrumental in the club's promotion to the Premiership in 2002-03.
Wanting to move closer to his home in Sutton Coldfield, Paul decided to leave Portsmouth and was snapped up by Division One side Walsall in summer 2003. Paul was subsequently offered the manager's spot at Walsall leading a gallant but unsuccessful bid to retain Division One status, eventually being relegated on the final day of the season.
Paul has since decided to forge a career as a media pundit, appearing frequently on Sky Sports's Gillette Soccer Saturday. Paul is now extremely popular as an after dinner speaker enlightening everyone with his hilarious, sad, interesting anecdotes from a glittering rollercoatser career at the top of football. He has played with and against many of the worlds top footballers.
Played 425 times for Arsenal, scoring 99 goals. Played 48 times Middlesborough, scoring 12 goals. Played 117 times for Aston Villa, scoring 18 goals. Played 45 times for Portsmouth, scoring12 goals. Played 77 times for Walsall, scoring 6 goals.
Austin Knight – Appeared at the Sportsman's Dinner October 2012
Austin Knight began his career whilst still attending school. Towards the late eighties, when impressionists became unfashionable, he developed a stand-up act featuring topical news items of the day, a wry glance at life's quirks and idiosyncrasies from a skewwhiff viewpoint. He currently writes a humorous weekly newspaper column 'Life With Austin'  which comments on the week's events and is syndicated in newspapers covering Tameside,  Glossop, Derbyshire, Ashton – Under -Lyne, East Manchester, Hyde, North Cheshire, Mossley, Saddleworth, Stalybridge and Stockport.
He has also written many comedy scripts, both for TV & Radio, done studio warm-up (or down as the case may be!) His writing career commenced by compiling sketches for Tommy Cooper, Les Dawson, and many more. Austin has appeared as an actor/presenter in various TV productions which include Coronation St, Krypton Factor, Sandbaggers, Takeover TV, Taggart, Fallen Hero, Crib the Detective, and THE NEW COMEDIANS the list goes on and on. In 2005 he played 'The Funniest Man on Earth' in the feature film 'ZEMANOVALOAD'.
His has performed at The Carlsberg Comedy Festival in Koh Samui, Thailand, The Cup Final at the Millennium Stadium, pre-match entertainment at Manchester United FC, a four week provincial theatre tour with 'The New Comedians', many sporting dinners, players testimonials and high profile corporate events for major companies and professional associations nationwide.
Today, Austin concentrates full time as an after-dinner speaker and is able to work either super clean or more adult, depending on what the audience requires. Recent dinners this year have featured PAUL MERSON, LEE SHARPE, SIR GEOFF HURST, MATTHEW Le TISSIER, MARTIN BAYFIELD, SCOTT  QUINNELL, ALEC STEWART, GRAHAM GOOCH and JOHN PARROTT to name just a few.
With many years' experience in the business, you can  have confidence that the evening will be enhanced by his hilarious and outrageous view of life itself. If we cannot laugh at life and our own shortcomings, then what indeed can we laugh at?
Jonathan Agnew – Appeared at the Sportsman's Dinner October 2011 
Jonathan's career as the BBC's cricket correspondent has been so successful, it's easy to forget that he ever played the game. But, as a thrusting seam bowler in the 1980s, he played three Tests for England before taking up his position in the commentary box. Agnew embodies the authoritative, but endearingly juvenile approach of the Test Match Special team, and as a player he was always looking for the fun element of the game.
In 1987 he began work as a sports producer with BBC Radio Leicester, in 1988 wrote an entertaining book on the life of a county pro – Eight Days A Week – and in 1990-91 covered England in Australia for the now defunct Today newspaper. Later that year he retired at the age of 30 on being appointed as the BBC's cricket correspondent.
He had one last day in the sun. In 1992 he answered a plea by an injury-strapped Leicestershire to appear for them in the NatWest semi-final; he took 1 for 31 in 12 parsimonious overs to help to his old side through to the final.
John Motson – Appeared at the Sportsman's Dinner Ocotober 2010

Motson's career began in the newspaper business as a reporter on the Barnet Press and the Sheffield Morning Telegraph, where he first covered football. It began to take off when the BBC hired him in 1968 as a sports presenter on Radio 2. Three years later, he replaced Kenneth Wolstenholme at Match of the Day. After initially having a small role on MOTD, Motson covered the famous FA cup third round replay between Hereford United and Newcastle United on 5 February 1972, which the BBC anticipated as a five minute segment following their two main games. Non-league Hereford won the match 2-1; it became the main featured game on the show and launched Motson's career.
Since 1979 Motson has commentated on all the major championships: World Cups, FA Cups, and European Championships. Most recently, he was commentator for the 2008 European Championships[disambiguation needed] Final. He was commentating on the FA Cup Semi-final of 1989 between Liverpool and Nottingham Forest when the Hillsborough Disaster occurred. Motson found himself commentating on a tragedy rather than a football match, and he would later appear as part of the Hillsborough enquiry, since he had been a witness.
Apart from a brief spell in the 1990s, when his friend and rival Barry Davies was selected for two FA Cup final commentaries and the 1994 World Cup final, Motson has been the dominant football commentary figure at the BBC since the late 1970s. His first FA Cup Final as commentator was 1977 in the match between Manchester United and Liverpool.
John Motson is famed for his sheepskin coat, which, on satirical quiz show They Think It's All Over, he revealed that he bought from a man in Hornchurch along with 7 identical coats, hoping that they would span his career.
When Premier League television highlights moved to ITV in 2001, and MOTD was no longer a weekly fixture in the schedules, Motson returned to radio on BBC Radio Five Live's coverage of the Premiership, but continued to make frequent appearances on live TV coverage and contributions to BBC Sport's website – which he has been doing since the site was launched in July 2000.
Motson resumed his weekly place on Match of the Day when the rights returned to the BBC in 2004, although he has also continued to perform occasional radio commentaries.
He has stated that the FA Cup final between Coventry City and Tottenham Hotspur in 1987 was "the finest FA Cup final I've ever had the pleasure of commentating on".
Motson lives in Hertfordshire with his wife, Anne, and their son Frederick (Derby County F.C. fan).
Jan Molby – Appeared at the Sportsman's Dinner October 1st 2007 
Jan Molby was born on 4th July 1963 in Kolding, Denmark. Jan Molby was signed by Joe Fagan in 1984 for £200,000 from Ajax and had a good career at Anfield. He had a varied career at Liverpool, ranging from one of the greatest midfielders Liverpool have ever had to weight problems and a stint behind prison bars.  Jan though made the transition to Liverpool easily and worked on the accent, quickly becoming a fluent scouser which adopted him to the crowd well.
Jan struggled in the team to begin with and had a few critics but Kenny Dalglish gave him a new lease of life after he took over as manager. Big Jan had slimmed down a bit and having adapted to the pace of the game became a midfield man of great vision and power. He supplied many a ball to Ian Rush who with his predator instincts finished moves off with a goal. Jan was superb at free-kicks and penalties in his time as well and the kop was often awaiting the net to burst at times under the pressure of his shots.
Jan was instrumental in the FA Cup success of 1986 over Everton when he turned the game on its head by setting up the first goal and then spreading the ball at every perceivable angle to open the game up completely and eventually for the second and third goals which completed the double. Jan suffered a broken foot in the following season and missed much of the 87/88 season only to return in defence the next year.  This stint in the team was interrupted though by a three month jail sentence for a driving offence.
However, Jan returned to the game a trim man and ready to play his part again in the Liverpool team. After winning a second FA Cup in 1992 Jan suffered in the game through injury and problems controlling his weight and as the game moved on it seemed to pass the great Dane by. Jan could pull the ball down and hold it for the defence splitting ball as and when required but this often wasn't used as effectively as it should have been.
Jan was eventually released by Liverpool in February 1996 to allow him to take up his position as player manager of Swansea. He nearly directed them to promotion only to fall to a twice taken free kick in injury time of play offs. After being sacked by Swansea and a short career in punditry Jan is back in management with Kidderminster Harriers.  Jan was given a testimonial by Liverpool and typically of Jan this changed from the normal pay-off to a great player in that it cost Jan money to stage his testimonial after he pledged so much to charity. Molby has the unique record of scoring a hat trick of penalties against Coventry City in a LC tie in 1986.
Jamie Sutherland – Appeared at The Sporstman's Dinner October 1st 2007
One of the freshest, original acts to emerge in the last few years, Jamie has truly established himself on the comedy circuit, and is now very much in demand all over the UK. A very original act, who will keep you amused with gags, tales, and stories. Liverpool born Jamie, is a modern act, with many observational topics, and up to date material, and don't worry if you prefer a good old style gag, he has plenty of them thrown in, ensuring a performance that will touch everyones buttons.Jamie is one of only a few comics that can tailor his performance to suit your audience, extremely popular with corporate clients, and he's equally at home performing to crowds at his nearby social club.
He can be seen regularly at Brinsop Comedy Club, Bolton, were he has been resident compere since Nov 2005, he has supported some of the biggest names in comedy, and has gained a reputation as 'one of the rising stars of comedy' with the sell out crowds, and his fellow comedians. Summer 2007 saw Jamie take his show into Europe, entertaining the masses of holidaymakers, and in January 2008 he's taking his tour to Sydney, Australia.
Jamie is available for charity events, sportsmans dinners, corporate evenings, basically, if there's a mic and a crowd then Jamie will be there to perform to you. Jamie is proving a very popular comedian/compere on the after dinner circuit and has appeared with former sports speakers such as: Tommy Docherty, Norman Hunter, Duncan McKenzie, Alex Stepney, Robin Smith and Paddy Crerand to name just a few.
The mouth for all occasions Jamie Sutherland.
What they've said.
"naturally funny, wonderful style, and a great addition to the circuit" Duncan McKenzie, Leeds & Everton Legend.
"Jamie had us doubled with laughter, and he interacted well with the crowd" Phil Aspey, Positive Solutions.
"You've got to come back, brilliant" Nottingham Electrical Company
Mike Farrell – Appeared at the 'Question of Sport' March 7th 2007 
Mike Farrell is a traditional stand up comedian from Yorkshire who can work either all male or mixed audiences. No props, no gimmicks just strong material and the professionalism to put it across. He rates among the top after dinner comedians on the circuit.
He is an ideal comedian for sporting dinners where he has followed them all! Jimmy Greaves, Jack Charlton, Dennis Law, Tommy Docherty, Fred Trueman, Geoffrey Boycott, Barry McGuigan and many more.
He is perfect for Rotary and Round Table dinners where he can tailor his material to suit the audience.
He is always very much in demand for gold day dinners for golf clubs and also company golf day dinners where many companies are so impressed they want him back the following year.

Denis Taylor –  Appeared October 2nd 2006 
Our speaker was Dennis Taylor the popular snooker personality. He is an intricate part of the BBC television snooker commentary team and is likely to remain involved in the game in this capacity for a long time to come.
Best known for his over-sized glasses, Dennis' friendly character and cheeky Irish wit have made him one of the most recognised sporting faces in the UK.
Although retired from professional snooker, Dennis' instantly recognisable face and endearing nature ensure that he regularly makes celebrity appearances on a range of television and radio shows.
Though Dennis has won many titles in his career, he is best remembered for his 1985 Embassy World Championship victory. This match is always featured amongst the most popular sporting moments of all time. Over 18 million people watched the conclusion of the match after midnight on BBC television when Dennis made an extraordinary comeback to clinch the title on the final black.
He is now certainly one of the most recognisable faces and voices within snooker. He is a top class after dinner speaker, entertaining audiences with his many tales from the world of sport.