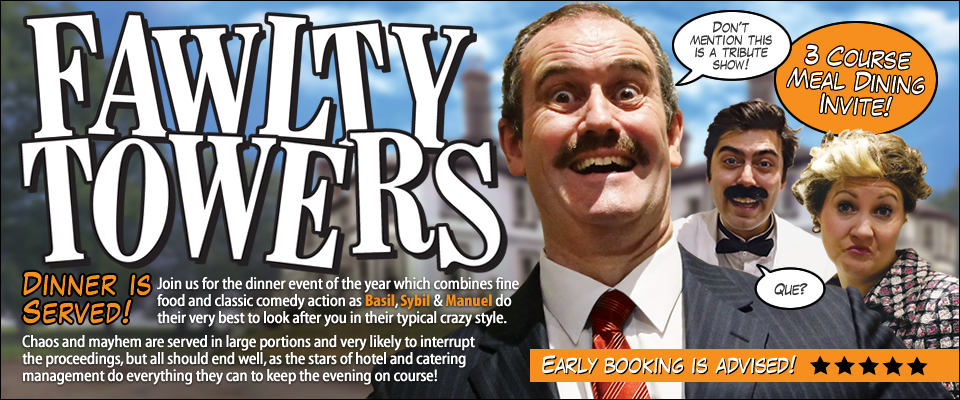 Friday 6th October 2023 at Portland Collage
Join us for the dinner event of the year which combines fine food and classic comedy action as Basil, Sybil and Manuel do their very best to look after you the only way they no how. Chaos and mayhem are served in large portions and very likely to interrupt the proceedings, but all should end well, as the of hotel and catering management do everything they can to keep the evening on course!
The Germans have booked the Function Suite Basil is not Happy!!
The Health Inspector is going to pay a visit, and Manuel's Hamster (Rat) is nowhere to be found.
Expect a big fun night out in a friendly party atmosphere with some of the finest comedy actors in the land, professionally produced to the highest standards and with your enjoyment always at the top of the menu. A faultless show that guarantees to reach chuckle muscles you never knew you had!
Click here to see a short video that will remind you just how funny Fawlty Towers was!
---
Guests will be able to enjoy a drinks reception from 6.45pm followed by dinner at 7.30pm. Between each course during dinner our professional cast of actors will entertain us with comedy sketches based upon the ever-popular Fawlty Towers.
Dress code is smart casual, suits or jacket & tie for the gentleman and it's short or even long & elegant for the ladies.
This really is a 'not to be missed evening' and is perfect for entertaining friends, family, clients & business associates, with tables of 10 at £400, or individually at £40 per person. To reserve your tickets or table simply telephone Bev at Stewart Rickersey's office on Mansfield 707017 or e-mail to stewart@rickersey.net. 
We look forward to sharing an amazing evening with you whilst continuing our efforts to raise money to support local sports people. But an Armchair Club night with a difference. Don't miss it.
Sportingly yours,
Stewart Rickersey, Chris Adkin, Katie Cooper-Lewis, Gary Jordon, Martyn Knox, Mike Collins (Honorary Member), John Morley, Andrew Saunders,  Zac Coupe, Geoff Waller, Emma Dallman, Rachael Richardson