Double Olympic gold medallist Rebecca Adlington has launched the second Charity Swimathon in Mansfield, urging people to take part and raise money for good causes across the area.
The event is again being hosted by Mansfield Rotary Club and the town's Armchair Club, which supports sporting individuals and clubs. It is being supported by Mansfield District Leisure Trust, which donates pool time and provides lifeguards and staff support.
Among the swimmers will be Rebecca as well as Commonwealth Games competitor Elliot Clogg. Organisers are hoping that Paralympians Charlotte Henshaw and brothers Ollie Hynd and Sam Hynd will be taking part — all of whom have been supported by the Armchair Club in the past.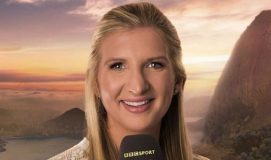 Rebecca, a patron of the Armchair Club, said she was delighted to have been asked to support the first Swimathon in 2019, which raised more than £2,500.
Elliot, a 2018 Commonwealth Games gold medallist, swam 46 lengths at the first Swimathon and aims to return for 2020 after the disappointment of the cancellation of the Tokyo Olympics. Charlotte, a Paralympics and world silver medal winner, returned to the pool for the 2019 Swimathon after switching from swimming to Para kayaking.
Fifty per cent of the money raised by individuals ­— who swim in 15-minute time slots — or groups will go to the charity of their choice and the remaining 50 per cent will go to the Rotary and Armchair clubs for the Mansfield Rotary Club Benevolent Fund and the Armchair Club Sports Foundation Trust.
The Swimathon will take place at the Water Meadows Swimming Complex, Mansfield, on Saturday, 10th October, from 5pm to 9pm.
Full details of how to enter, sponsor a swimmer or help out are at www.armchairclub.org/swimathon.
People are being urged to:
Swim as an individual
Swim as part of a team from their business
Swim as part of a family and friends team
Swim as part of a charity team
Sponsor a lane for £50
Sponsor one of the 'pros — Rebecca Adlington, Elliot Clogg or Charlotte Henshaw.
Rebecca, who launched the Charity Swimathon 2020 at virtual breakfast meeting of Mansfield and Ashfield 2020, said: "I hope that you will be able to take part in some way. Why not come and join me at Water Meadows in October?"
The Armchair Club has now paid out more than £250,000 to help local sportspeople since it was formed in 1982.
A spokesman for the club and Mansfield Rotary Club added: "Please support our efforts to show the up and coming sports stars of the future that their community is behind them."